How to Pet-Proof Your Holidays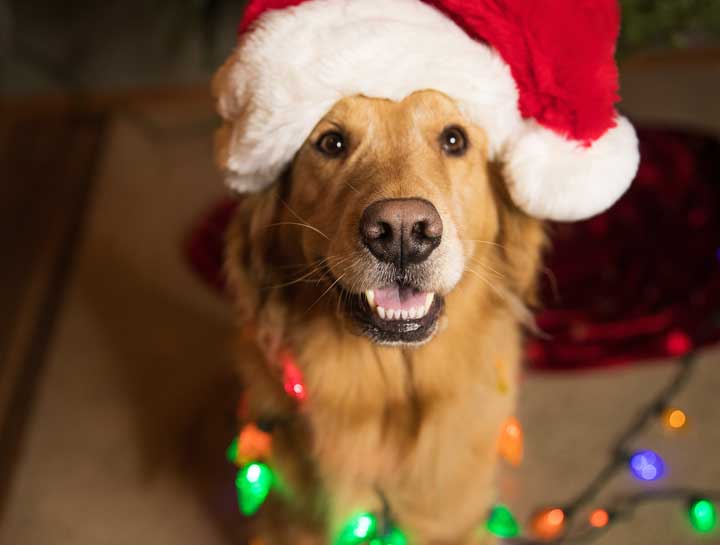 December 1, 2022
There are many things that come to mind when the holidays are approaching—gifts, ornaments, candy canes….you know, all the good stuff. But for others, cats entangled inside of the tree and dogs gnawing on the ornaments can bring a lot of stress. Decorating for the holidays can be a joy, but if you are not careful, your decorations may cause some serious injuries or worse if caution is not taken.
As adorable as our pets are, some of them have a special destructive gene to them. Whether this will be your first or hundredth-holiday celebration with your fur baby, we want to make sure you are fully prepared.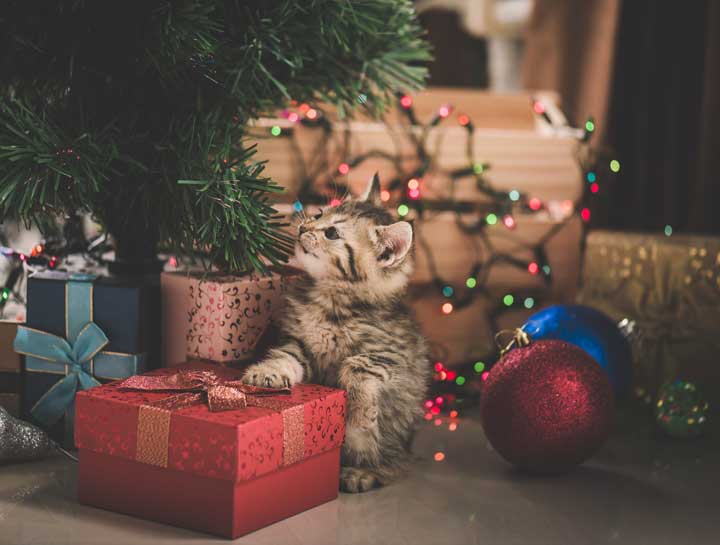 Below are some tips on how to keep your pet safe and your decorations intact during this holiday season. Don't be ashamed if you have to use more than one of these remedies:
Place a baby gate around your tree.
Spray your decorations and tree with a citronella spray. This can either be homemade or purchased at your nearest pet store.
Surround your tree with larger presents to create a barricade.
Anchor your Christmas tree to a wall.
Artificial Christmas trees are safer as real trees can be mildly toxic and the tree needles can obstruct or puncture them internally.
Shake a can of coins when your cat or dog attempts to chew or climb on your tree. Persistence is key.
Consider a smaller, thinner tree. The bigger the tree, the more attraction, and dangers it can pose for your pet.
Wrapping your tree base with aluminum foil will help eliminate cats from approaching the tree as most cats do not like to dig their nails into it.
AVOID GLASS ORNAMENTS!
Tape any electrical cords to the wall and conceal them as best as possible. Cords that dangle are a subliminal invitation to destruction. Pre-lit trees work wonders.
Do not decorate with candy, nuts, popcorn, or anything edible. Pets can smell through packages, bags, and wrappers. Chocolate, grapes, raisins, and onions are toxic to pets.
Set up bells to alert you when your pooch is approaching somewhere they shouldn't be.
Use zip ties to secure the ornaments to the tree.
Use minimal to no ornaments at the bottom of the tree, this will prevent temptation.
Placing double-sided tape in the pathway of the tree can help deter your pet as most cats and dogs do not like to step on sticky things.
ALWAYS unplug your tree when your pet will be unsupervised.
Why Coco-Park Animal Hospital?
Our experienced, qualified, and compassionate team provides services that aid in making pets thrive. As a state-of-the-art veterinary hospital, we offer therapeutic laser, diagnostic ultrasound, and specialty surgical services in addition to a wide variety of diagnostic services, x-ray examinations, surgical procedures, vaccinations, and wellness packages.
Through continuing education, we stay up to date with the most recent developments within the veterinary field and are devoted to exercising compassion in all of our interactions. Not only do we provide quality care to your pets, but we also support and educate you as the caretaker.
Call us today at (954) 698-6722, to schedule your virtual appointment or e-mail: cocoparkhospital@gmail.com
Your pets will love us, we "shih-tzu" not!